The Origin of Masamoto
®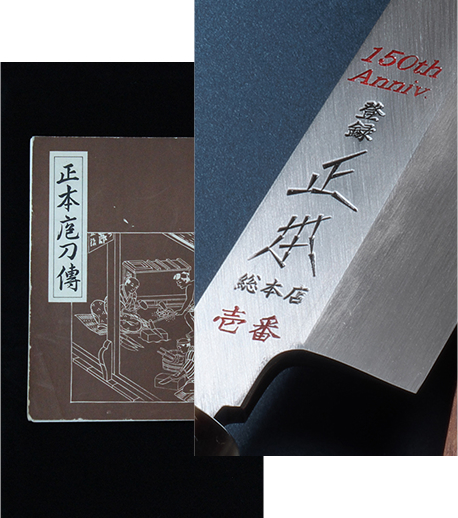 As the first generation Minosuke engraved the "正" ("Masa") character on his knives as proof that he had made them himself, the second generation knife craftsman Kichizo Hirano sought to register this character as the trading name when the trademark registration system began in 1884.
However, since a knife specialty store in Osaka was already using the name, it could not be used. After consulting with business partners, the suggestion was made that since the knives use genuine steel, why not place the "本" ("moto") character that forms part of the Japanese word "genuine" under the "正" ("masa") character? This advice was the origin of "Masamoto®."
Only Masamoto Sohonten has carried on the techniques and approaches to hardening, tempering and polishing created by the first-generation founder Minosuke.
As well as cutting well, boasting excellent durability and requiring little maintenance, the range of Masamoto® knives has expanded into various types based on feedback from the chefs using them even back in this time. Striving to create the perfect knife that meets the demands of users, Masamoto Sohonten works diligently on a daily basis, devoting itself to the task so that others cannot follow.
The Masamoto Lineage
First Generation

Minosuke Matsuzawa
1845 - 1891
Second Generation

Kichizo Hirano
1857 - 1916
Third Generation

Sakichi Hirano
1883 - 1954
Attention
Tsukiji Masamoto (Tsukiji Masamoto®) set up business independently in 1951.
*Its products and company organization differ completely.
MASAMOTO® is a registered trademark of Masamoto Sohonten based in Azumabashi
Fourth Generation

Masakichi Hirano
1903 - 1970
Fifth Generation

Morisuke Hirano
1929 -

Conferred The Order of the Rising Sun, Gold Rays with Rosette
Sixth Generation

Masahiro Hirano
1961 -
The Story of Masamoto Sohonten
History of Masamoto Sohonten
Global Events
History of Masamoto Sohonten

Global Events

2016

150th Anniversary

2016

The 31st Olympic Games are held in Rio de Janeiro, Brazil.

1903

The MASAMOTO trademark (No. 20269) is registered.The name has become recognized as a well-known and established trademark in Japan.

1889

The Eiffel Tower in Paris is completed.

1890

Opens for business at 26, Nakanogohara-Niwacho, Honjo-ku, Tokyo (present-day Azumabashi, Sumida-ku).
By Order of the Daizenryo (imperial cooking and banquet facility) of the Imperial Household Ministry.

1877

American Thomas Edison invents the phonograph.

1874

First in the Kanto region to manufacture and sell genuine tempered blade cooking knives.

1871

The Second Reich (1871 - 1918) is established in Germany.

1867

Swedish chemist Alfred Nobel invents dynamite.

1866

Returns home and starts making cooking knives in Osawa.

1863

American President Lincoln makes Emancipation Proclamation to end slavery.

1862

Travels to Osaka to master the secrets of genuine knife forging.

1840 - 1842

Opium War fought between Qing dynasty and England.

1845

First-generation founder of Masamoto is born to a blacksmith in Osawa, Bushu (Saitama Prefecture).